The Company and the Team
'Kenya Treks' started as a kernel of a travel idea in 2007.  We took our first international guests up Mount Kenya in 2009, and in 2013 Lucy and co-director John Karumba set up Mukima Walking Safaris Limited trading as 'Kenya Treks'.
Lucy studied Social Anthropology at the London School of Economics and then spent 20 years working as a manager in Broadcasting for ITV. She is based in London and visits Kenya at least twice a year, always including a mountain recce during her visit. She is a Fellow of the Royal Geographical Society.
Head Guide John Karumba lives in the town of Nanyuki on the north western side of Mount Kenya, and Nanyuki is the base for our trips.
We are members of Responsible Travel which means we support local businesses, as well as paying our contracted staff fair wages. Our porters, cooks and servers are recruited from the local community and they are all well known to us. All members of our teams are registered with the Kenya Wildlife Service and our Guides are Wilderness First Aid trained.  Our teams are very easy to spot with their smart red ski jackets, very kindly donated to us by luxury holiday company, Powder Byrne.
Our equipment
Mountain conditions can be tough, and our equipment is high quality and very robust to cope with extreme temperatures and all weathers from equatorial sun, heavy rain, snow and occasionally hailstones!
Our porters carry our equipment in heavy duty expedition bags and inside, we pack our mattresses and inner fleece groundsheets in smaller lightweight waterproof bags, all made and well designed by German company Ortlieb.
We have two-man Terra Nova Quasar expedition tents made in Derbyshire, England's peak district.  These are small tents (you can't stand up in them) for good reason.  There is less space to heat and it is easier to retain heat which is important with freezing night temperatures.  We usually recommend sharing if you know each other, as additional body heat helps too.  To make our tents even more cosy, we have custom made inner fleece groundsheets.  Our sleeping mattresses are Prolite Plus by Thermarest and provide good insulation.  We also give you fleece pillowcases so you can put some soft clothing inside, e.g. a fleece, to make a squishy pillow.
We have mini Coleman mess tents for small groups and Thermarest camping chairs.
We recommend you buy a Sigg bottle for your trip and we provide fleece covers so you can use as a hot water bottle at night.
Our melamine picnic-ware is from Emma Bridgewater, Rice from Denmark and good old John Lewis.
We have 8 Leki poles available to use, on request.  Many of our guests bring their own poles, so please let us know your requirement in advance.
We constantly try to improve our equipment, so there is always something new in the pipeline.  Our latest additions are Bodum travel coffee makers and Popaloos!
Please email us via our contact page.  We look forward to organising your adventure.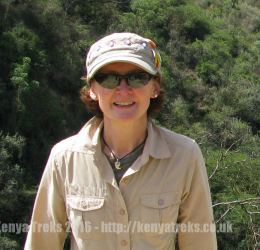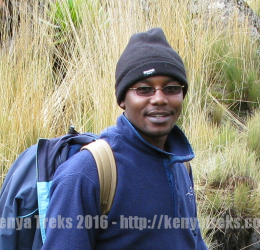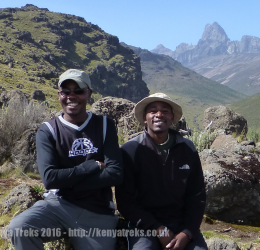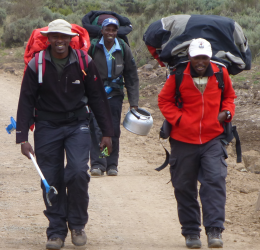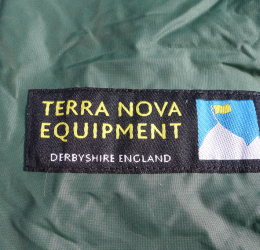 Terra Nova from Derbyshire, UK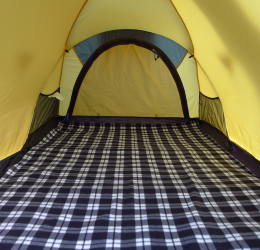 Cosy inner fleece groundsheet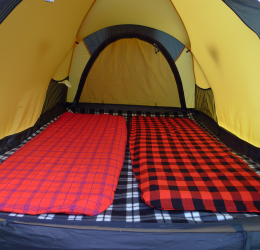 Mattresses in their 'shuka' covers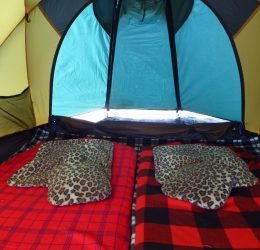 Leopard print fleece pillowcases and hot water bottle covers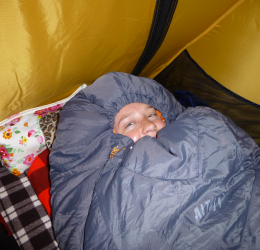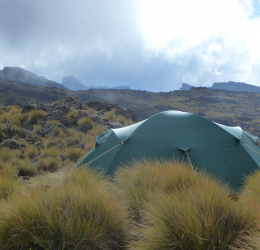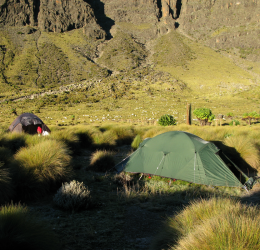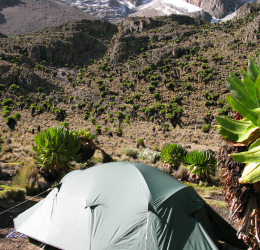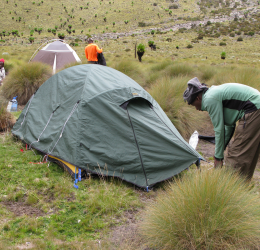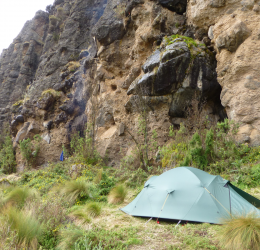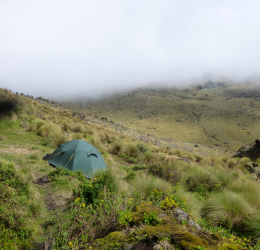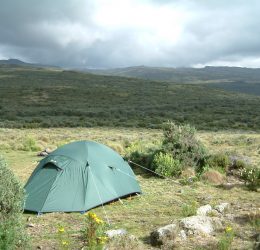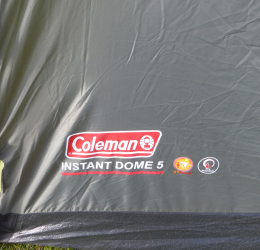 Our mini mess tent by Coleman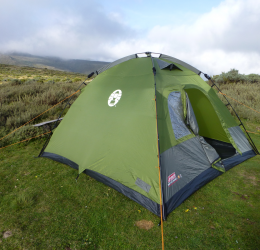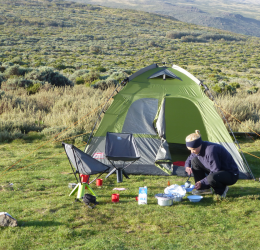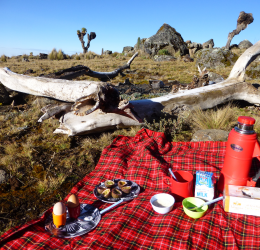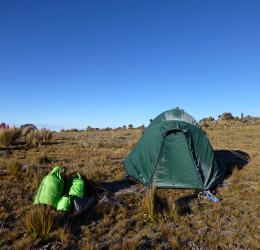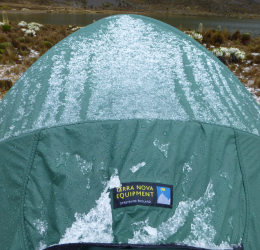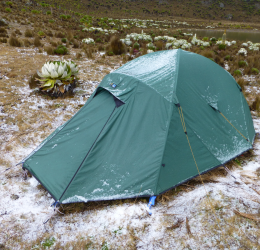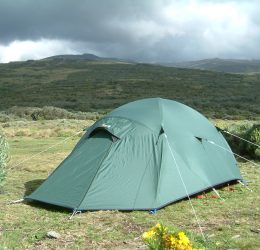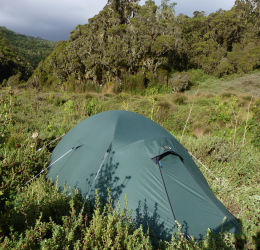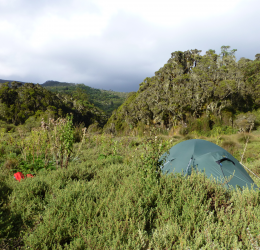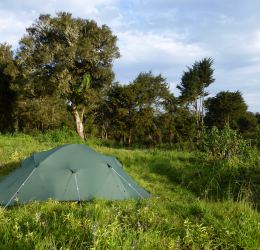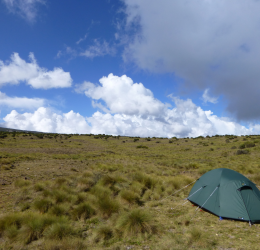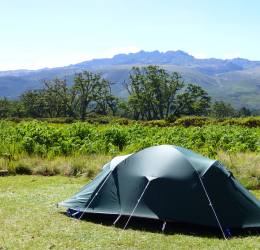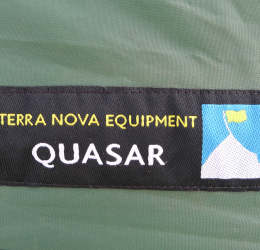 The Terra Nova Quasar is a two-man expedition tent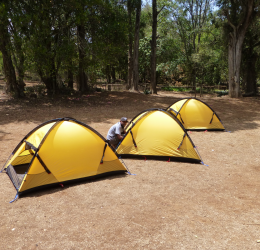 Cleaning the tents back at base in Nanyuki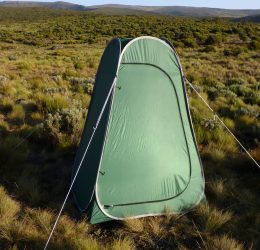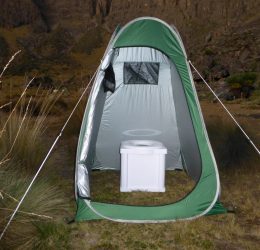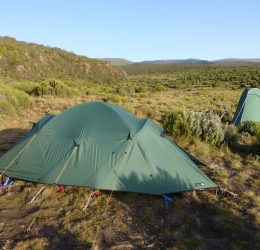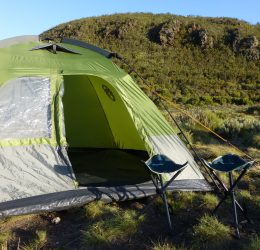 Our mini mess tent with camp stools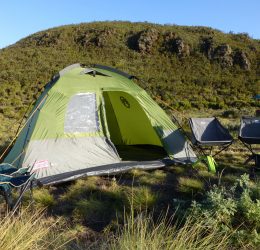 Our mini mess tent with Treo camp chairs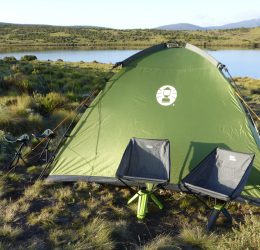 Our mini mess tent with Treo camp chairs