The eastern side of the mountain is the most scenic part of Mount Kenya.  There are generally less people on the route, particularly once you head off the main trail.
Our favourite trip, which we recommend, is ascending via the Chogoria route and descending via the Sirimon route.  You spend your first night at the Chogoria Bandas (very simple mountain accommodation near the Gate) where you have your own room and attached bathroom.  The Bandas are currently undergoing renovation.
You camp on the shores of Lake Ellis and then Lake Michaelson on your second and third nights.  If the weather is good, you have the option of a daytime ascent to Point Lenana whilst walking from Lake Michaelson to Shipton's Camp, making a detour from the Simba Col up to the Point.  This is a great opportunity to be on the top of the mountain without other people, and during the day you have the best chance of catching a glimpse of Kilimanjaro in the far distance.
Finally, you camp either at Shipton's Camp or below the Camp and on your final day, you continue on down to Old Moses Camp.  We tend not to stay overnight at Old Moses, but usually advise transferring back to Nanyuki, as the cost of another night on the mountain is almost as much as a night at a local hotel.  Most people prefer a hot shower, sleeping in a proper bed and the chance of sorting themselves out before their onward transfer the following day.
We can provide a detailed itinerary on request.
Strolling in the eastern foothills
There are some lovely trails through forested parkland to the Nithi Falls and Lake Ellis.  If you don't particularly want to do a summit climb, you can spend a few days staying at the Chogoria Bandas or camping on the shores of Lake Ellis, or a combination of both.  If you stay at Lake Ellis, you can make a dawn ascent of Mugi Hill which is a very easy walk.  It's wonderful to stand on the summit sipping tea, listening to the birds.  As the sun rises, the main peaks catch the dawn light and take on a deep orange glow which is quite magical.
Detailed itinerary on request.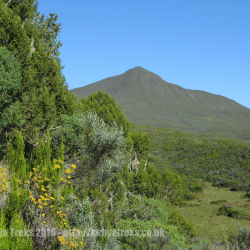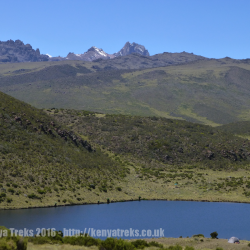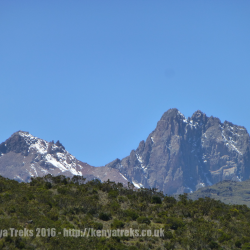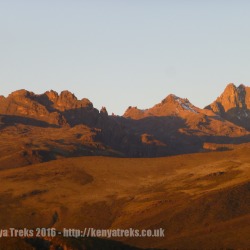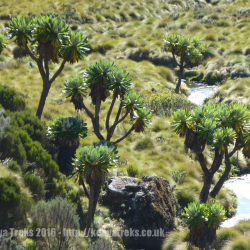 On way from Lake Ellis to Chogoria roadhead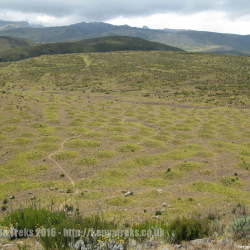 Periglacial landforms from Mugi Hill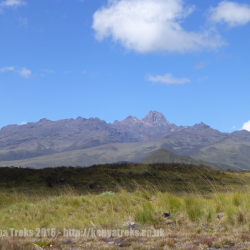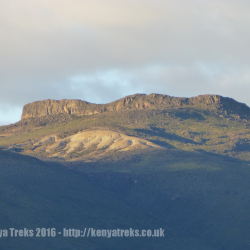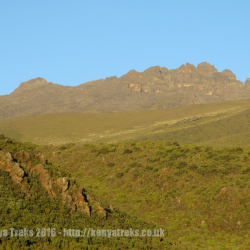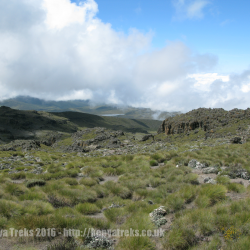 On way from Lake Ellis to Lake Michaelson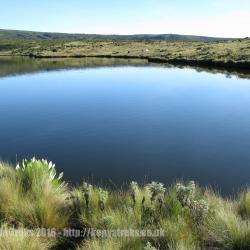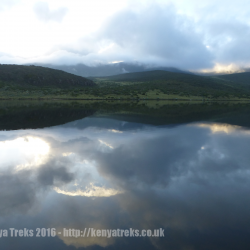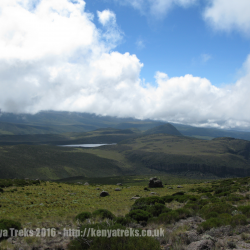 On way from Lake Ellis to Lake Michaelson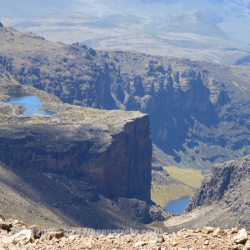 View down the Gorges Valley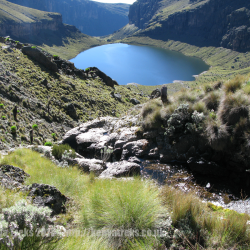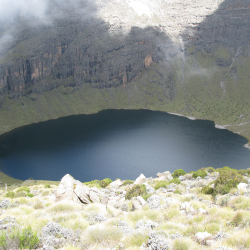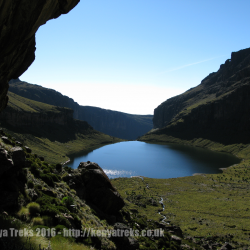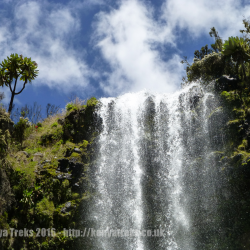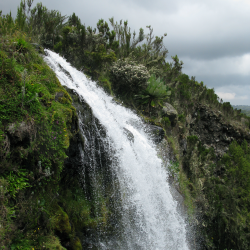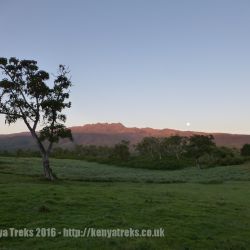 View from Chogoria Bandas