This tour combines a walking safari on the Laikipia Plateau with a trip on the mountain. Ideally you need to allow ten days for this holiday, including return travel from and back to Nairobi.
This is an ideal trip for good mountain acclimatisation as the Bushland part of the tour with Karisia Walking Safaris is at an elevation of 1,585 metres. You spend a few days walking with your Guide through the bush, spotting animals on the way, as well as taking in the expansive views of this primeval landscape.
Meanwhile all the equipment and your luggage will be moved every day by camels and their handlers and your tent and the rest of camp will be set up in advance of your arrival – slightly different to your luggage being transferred by vehicle from hotel to hotel!  You have roomy tents and bucket showers, and your chef will produce delicious meals.  In the evenings, you enjoy sundowners from rocky vantage points, followed by dinner under the stars, listening to the noises of the bush.
Then you return to Nanyuki and set off for your trip to Mount Kenya and up to the Moorland ascending via Chogoria and descending via Sirimon.  You spend your final night at a local hotel before your onward transfer either to Nairobi or your next destination.
We can provide a detailed itinerary on request.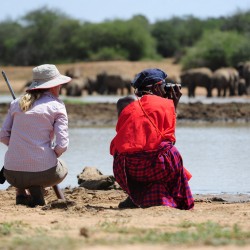 Kerry Glen and Karisia guide – courtesy of Karisia Walking Safaris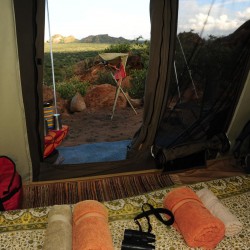 Karisia Classic tent – courtesy of Karisia Walking Safaris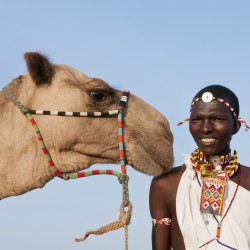 Karisia camel and Guide – courtesy of Karisia Walking Safaris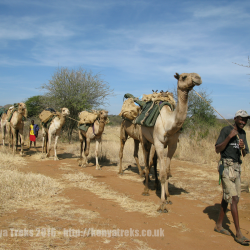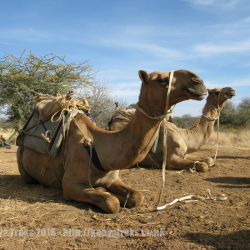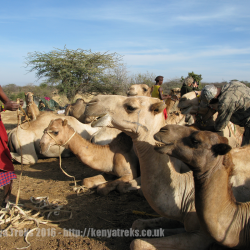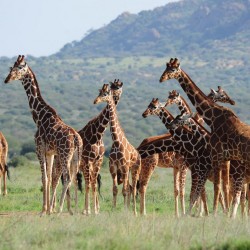 Giraffes on Tumaren Ranch – courtesy of Karisia Walking Safaris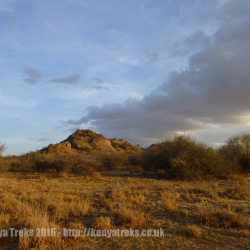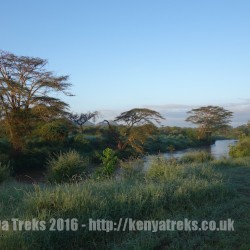 Tumaren Ranch – photo by Suzanne Anderson